Kinh caÓu nguyeńn cho vieńc Phong ChaÔn Ph÷˘¨c
Đ÷¨c HoÓng Y PhanxicoÔ XavieÔ NguyeŃn Vaŕn Thuańn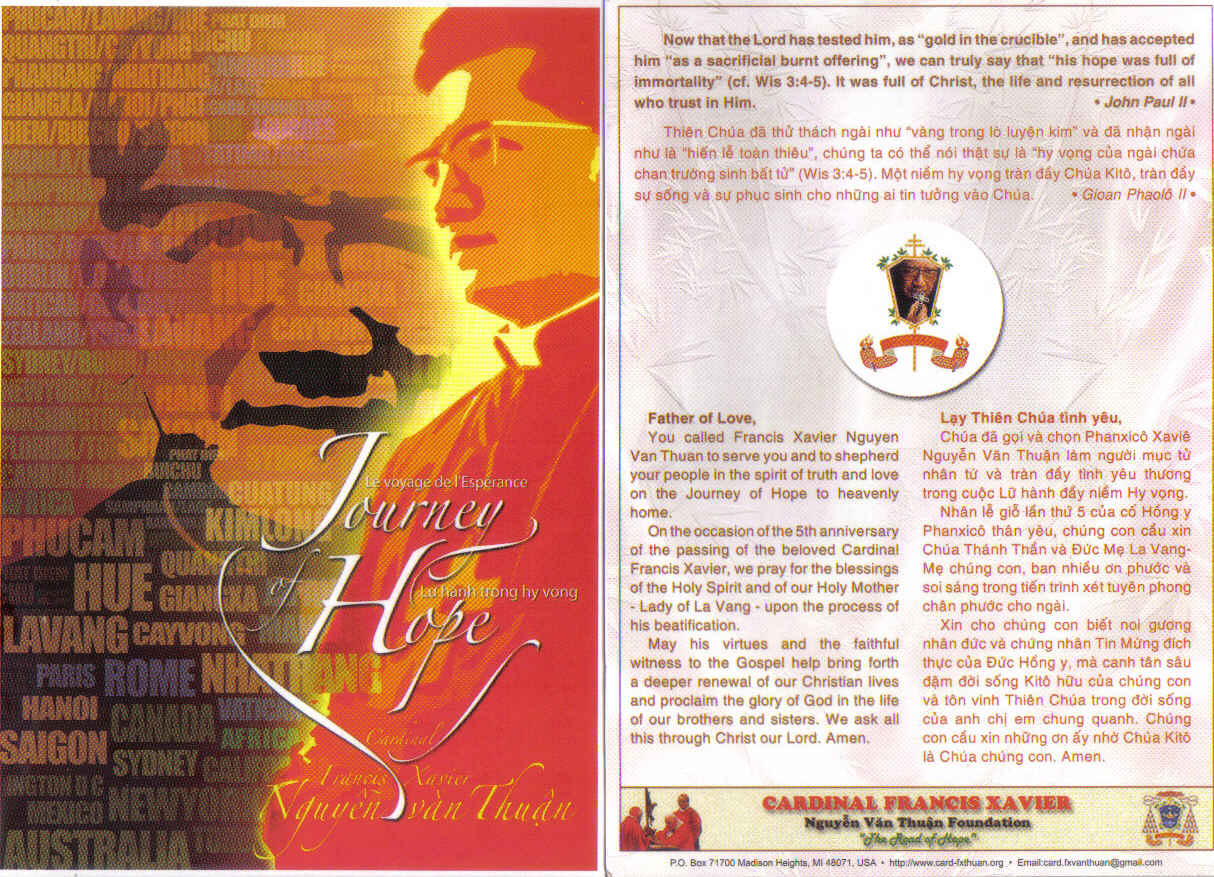 Prepared for Internet by Radio Veritas Asia, Philippines
Kinh caÓu nguyeńn cho vieńc Phong ChaÔn Ph÷˘¨c Đ÷¨c HoÓng Y PhanxicoÔ XavieÔ NguyeŃn Vaŕn Thuańn.
ThieÔn Chu¨a ˝a§ th÷ű tha¨ch nga°i nh÷ "va°ng trong lo° luyeńn kim va° ˝a§ nhańn nga°i nh÷ la° "hießn leŃ toa°n thieÔu", chu¨ng ta co¨ theň no¨i thańt s÷´ la° "hy vo´ng cuűa nga°i ch÷¨a chan tr÷˘°ng sinh baßt t÷ű" (Wis 3:4-5). Mońt nieÓm hy vo´ng tra°n ˝aÓy Chu¨a KitoÔ, tra°n ˝aÓy s÷´ soßng va° s÷´ phu´c sinh cho nh÷§ng ai tin t÷˘űng va°o Chu¨a. (Gioan PhaoloÔ II)
La´y ThieÔn Chu¨a týnh yeÔu,
Chu¨a ˝a§ go´i va° cho´n PhanxicoÔ XavieÔ NguyeŃn Vaŕn Thuańn la°m ng÷˘°i mu´c t÷ű nhaÔn a¨i va° tra°n ˝aÓy týnh yeÔu th÷˘ng trong cuońc L÷§ Ha°nh ˝aÓy nieÓm Hy Vo´ng.
NhaÔn leŃ gioŃ laÓn th÷¨ 5 cuűa coß HoÓng Y PhanxicoÔ thaÔn yeÔu, chu¨ng con caÓu xin Chu¨a Tha¨nh ThaÓn va° Đ÷¨c Me´ La Vang, Me´ chu¨ng con, ban nhieÓu ˘n ph÷˘¨c va° soi sa¨ng trong tießn trýnh xe¨t tuyeÔn phong chaÔn ph÷˘¨c cho nga°i.
Xin cho chu¨ng con bießt noi g÷˘ng nhaÔn ˝÷¨c va° ch÷¨ng nhaÔn Tin M÷°ng ˝Ých th÷´c cuűa Đ÷¨c HoÓng Y, ma° canh taÔn saÔu ˝ańm ˝˘°i soßng KitoÔ h÷§u cuűa chu¨ng con va° toÔn vinh ThieÔn Chu¨a trong ˝˘°i soßng cuűa anh ch˛ em chung quanh. Chu¨ng con caÓu xin nh÷§ng ˘n aßy nh˘° Chu¨a KitoÔ la° Chu¨a chu¨ng con. Amen.
Now that the Lord has tested him, as "gold in the crucible", and has accepted him "as a sacrificial burnt offering", we can truly say that "his hope was full of immortality" (cf Wis 3:4-5). It was full of Christ, the life and resurrection of all who trust in Him. (John Paul II)
Father of Love,
You called Francis Xavier Nguyen Van Thuan to serve you and to shepherd your people in the spirit of truth and love on the journey of Hope to heavenly home.
On the occasion of the 5th anniversary of the passing of the beloved Cardinal Francis Xavier, we pray for the blessings of the Holy Spirit and of our Holy Mother - Lady of La Vang - upon the process of his beatification.
May his virtues and the faithful witness to the Gospel help bring forth a deeper renewal of our Christian lives and proclaim the glory of God in the life of our brothers and sisters. We ask all this through Christ our Lord. Amen.
Cardinal Francis Xavier Nguyen Van Thuan Foundation
"The Road of Hope"
P.O. Box 71700
Madison Heights, MI 48071, USA.
---